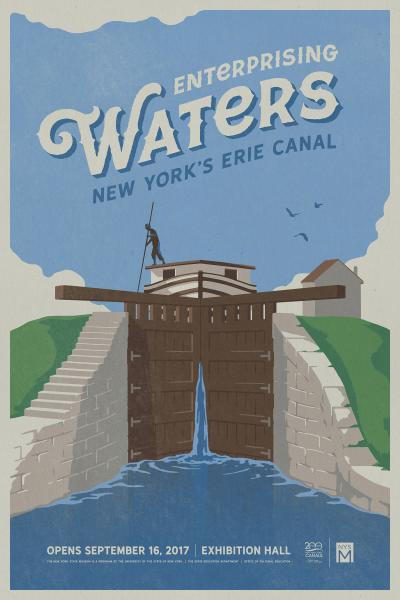 Enterprising Waters: New York's Erie Canal (Phase Two)
September 16, 2017

to

July 31, 2020
The Erie Canal directed the course of New York and American history. When it opened in 1825, this "boldest and biggest American engineering project of its century" unlocked the Western interior for trade and settlement. Boomtowns sprang up along the canal's path and New York City, with its deep harbor connecting to the Hudson River, grew to be the nation's most powerful center of international trade. 
One of the largest public works projects in American history, the Erie Canal inspired a nation-wide transportation revolution. Thousands of people poured into New York to work on or along the canal, or just to pass through. Though the canal would eventually be superseded by the railroad, a heady mixture of innovation and determination, and the industrious seeking and creation of wealth, was cemented in the American character. 
In honor of the Bicentennial of the Erie Canal's construction, New York State's Office of Cultural Education will present this rich story with the first phase of Enterprising Waters: New York's Erie Canal at the New York State Museum. In collaboration with organizations on the canal corridor and across the state, the State Museum will tell the Erie Canal's story with unique objects, documents, and images.
Dominating the exhibition space is a gigantic windlass—a pulley mechanism that easily lifted and lowered heavy cargo from both sides of a warehouse with only one or two men. From 1831 through 1866, this windlass operated in the H. G. Root and Company Warehouse in the Village of Mohawk on the Erie Canal. The owners of the warehouse, Humphrey G. and Elias Root, also ran a general store and other small businesses along the canal.
Phase Two of Enterprising Waters continues the story of the Erie Canal with components on the Canal's growth, politics, industries, social reform, and the Canal legacy.