The NYSM bird collection comprises approximately 20,000 bird specimens, collected from the 1850s to the present, with significant holdings of birds from New York and neighboring states. Specimens prepared in the last 20 years have associated frozen tissue samples, available for genomics research. The collection is of great historic value as it includes many specimens of extinct North American species such as the Labrador Duck, Passenger Pigeon, Ivory-billed Woodpecker, Eskimo Curlew, Great Auk, and Carolina Parakeet. The Ornithology Collection includes the important research collections of Robert W. Shufeldt, Roy C. Latham, Eugene P. Bicknell, Benjamin W. Arnold, Elon H. Eaton and Stephen W. Eaton.
The Ornithology Collection staff adds new specimens each year and actively seeks to obtain specimens of birds (salvaged, frozen birds in good shape as well as "orphaned" collections of skins, skeletons, eggs, or fossils) to fulfill its goal of becoming representative of the past and present avifauna of New York and the adjacent region. 
Access to the Collections
The NYSM encourages the use of its collections by students, researchers, artists, and educators.  Those that wish to visit the collection should contact the curator to make arrangements. Requests for specimen loans for teaching, research, or exhibition, or for sampling of specimens for research should be directed in writing to the curator or collection manager.
Our specimen holdings are searchable on VertNet.org: http://portal.vertnet.org/search
Select "advanced search options" and choose NYSM for "institution code".
Featured Subcollections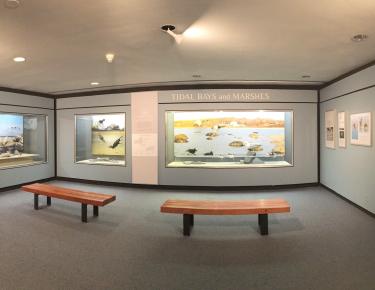 This ongoing exhibit highlights many of the incredible birds that call New York State home.