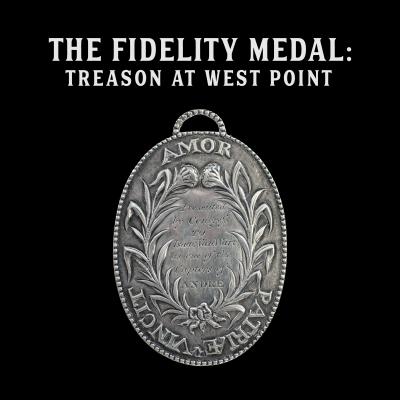 The Fidelity Medal: Treason at West Point
September 29, 2023

to

December 31, 2023
The Fidelity Medal: Treason at West Point delves into Major General Benedict Arnold's betrayal of West Point during the American Revolution and British Major John André's involvement in Arnold's plot. Featured in the exhibit are important historical artifacts and information related to this aspect of the American Revolutionary War, including the rare Fidelity Medallion, the first military medal authorized and presented by the United States Congress, three links from the Great Chain constructed across the Hudson River to prevent British ships from sailing north from New York City, and images of the papers found on André when he was captured.
 
The Fidelity Medallion, also known as the "André Capture Medal," was created specifically for the three enlisted Westchester County militia men, Isaac Van Wart, John Paulding, and David Williams, who captured John André on September 23, 1780, and it was never presented again. It can be considered the oldest decoration in the U.S. military, preceding by nearly two years the Badge of Military Merit—the precursor to the modern Purple Heart Medal. The two-sided medal has a Latin inscription, which translates as "Love of Country Conquers" on one side, and "Fidelity" on the other. The medal featured here was awarded to Isaac Van Wart, who was born in New York in 1750 and died in Westchester County on May 23, 1828. After his death, the medallion remained in the custody of Van Wart's family until 2023, when it was bequeathed to the collections at the New York State Museum.
 
Also on display, the three links from the Great Chain were forged in 1778 at Sterling Iron Works in Warwick, Orange County, and remained in use until the end of the war in 1783. Each link measures approximately two feet in length and weighs between 140 and 180 pounds.