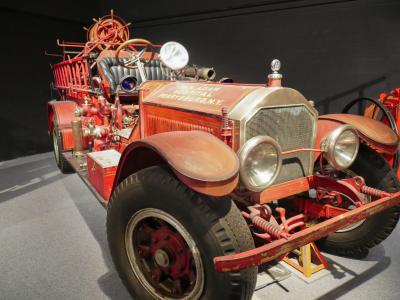 World Trade Center Gallery
Two centuries of fire apparatus form the core of the firefighting collection at the New York State Museum. With hand engines, steam engines, motor pumpers, a hose cart, a parade carriage, and an aerial and water tower, most significant types of firefighting equipment are on display. Some of the pieces represent the products of important New York apparatus manufacturers such as Lysander Button, Clapp and Jones and the American-LaFrance Company. Other rigs are valued as veterans of both volunteer and paid fire departments across the state from Perrysburg to New York City. 
While much of the fire apparatus is on display in Fire Engine Hall, most of the remaining portions of the Museum's firefighting collection are in storage. These holdings also include a variety of other two and three dimensional materials. A number of nineteenth century prints depict the nature of historical firefighting. Helmets, parade belts, speaking trumpets, buckets, play pipes, ladders, extinguishers, alarm boxes, badges and convention ribbons comprise the major portion of the remaining material. 
1791 Tub
This hand engine, filled by buckets instead of a hose, is the Musuem's oldest piece of fire equipment on display in Fire Engine Hall. Retired in 1832, it was preserved by the Lansingburgh volunteer fire department for over 100 years until it was donated to the State Museum in 1937.
1875 Parade Carriage
This intricately adorned fire carriage was never intended to actually fight fires. Rather, it represented the pride that 19th-century volunteer fire departments took in their apparatus and was meant to dazzle on display in community parades. This hand-pulled carriage, with a dummy hose reel, featured velvet panels, beveled mirros, engraved gas lamps, and even an oil portrait!
Fun Facts: Did you know?!
Firefighting in New York dates back to 1648 when Peter Stuyvesant appointed fire Wardens to patrol the colony and inspect wooden chimneys and thatched roofs.
Early fire alarm systems included the "rattlewatch." Initiated in 1658, it consisted of a group of men who patrolled the towns at night and would shake loud wooden rattles to alert the townspeople of a fire.
Before the introduction of fire trucks, townspeople would form a "bucket brigade" to fight fires. A single line of people would pass filled buckets from the water source to the site of the fire until either the fire was extinguished or the water ran out.
Related Videos