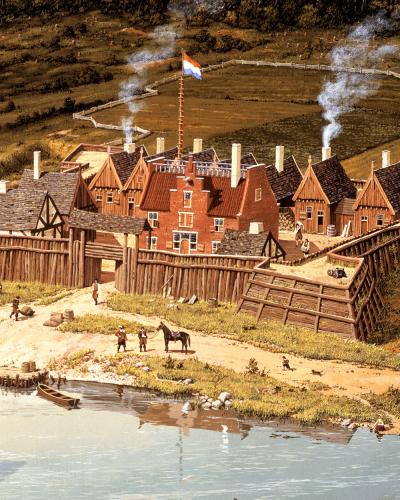 "a small fort, which our people call Fort Orange"
May 5, 2018

to

December 31, 2023
Fort Orange was the first permanent Dutch settlement in New Netherland, built as a trading post by the West India Company in 1624 at the location of present-day Albany along the Hudson River. Between 1624 and 1664, the fort's role in the development of New Netherland changed—from a point of contact and trade between Native Americans and Europeans, to an enclosure with dwellings and private enterprises, and finally an abandoned space consumed by the development of Albany.
Centuries later, Fort Orange on the surface had long disappeared. But in a six-month period in 1970 and 1971—just ahead of Interstate 787 construction—a small archaeology team from the State Historic Trust (predecessor to the Office of Parks, Recreation and Historic Preservation, or OPRHP), headed by Paul Huey and composed mostly of volunteers, made remarkable discoveries about life in the Dutch colony at Fort Orange. In 2016, a collection of 36,000 artifacts from Fort Orange was transferred from OPRHP to the New York State Museum.
This exhibition examines the momentous discovery of Fort Orange and the lasting impact of events occurring there 400 years ago that shaped the character of the region, New York State, and the nation. The exhibition title is a quote taken from The New World by Johannes De Laet, a director of the Dutch West India Company, recorded in 1625. Select artifacts, film footage from the excavation, and four decades of historical and archaeological research are highlighted—including renderings of the fort by Historical Artist Len Tantillo. Dutch ceramics on loan from the Albany Institute of History & Art help bring life to the story.
This exhibition is supported as part of the Dutch Culture USA program by the Consulate General of the Netherlands in New York and in partnership with Historic Albany Foundation. Special thanks to the New York State Office of Parks, Recreation and Historic Preservation for their support in promoting understanding of New York State history.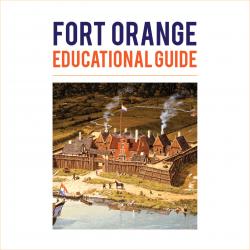 Created for teachers of the 4th and 7th grades, this educational guide provides five lessons that introduce students to Fort Orange and the world of New Netherland.