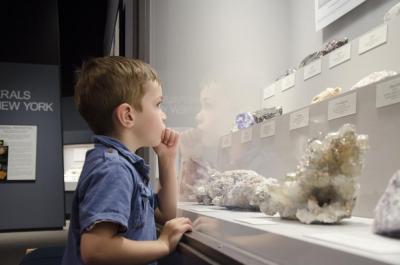 The gems and minerals on view in Adirondack Hall represent only a small fraction of the exceptional and sometimes extraordinary specimens that make up the State Museum's vast mineral collection. On display are unique and alluring minerals collected from mines, quarries, road cuts, and outcrops located throughout New York State. We invite you to experience the splendor of New York's mineral world and all it has to offer.
World-Famous Mineral Collections
The New York State Museum houses specimens from several notable sites throughout the state, including 93 mineral species from the Balmat-Edwards mining district in St. Lawrence, super garnets from the Barton Mine in the Adirondack Mountains, and Herkimer diamonds from Herkimer County, New York.
Oren Root Mineral Collection
View select specimens from the Oren Root Collection, one of the earliest mineral collections assembled in the United States. The complete collection, containing over 10,000 specimens, was started in 1834 by Oren Root of Vernon, New York.
Fluorescent Minerals
Check out these fun fluorescent minerals that glow in the dark! With the push of a button, you can observe how these minerals change when exposed to different spectrums of light.
Origins of the NYSM Mineral Collection
In 1836, Governor William Marcy appointed Lewis Caleb Beck as Mineralogist of the Geological Survey of the State. His collection lead to the publication of the Report on the Mineralogy of New York in 1842, and formed the nucleus of our current mineral collection.
Fun Facts: Did you know?! 
The New York State Museum has the world's largest and most complete collection of New York minerals.
Herkimer 'Diamonds' (quartz) occur in and around Herkimer County, NY. They are named after General Herkimer and are referred to as "diamonds" for their clarity and bright sparkle.
The pink and purple mineral, tremolite ("hexagonite"), is found only in St. Lawrence County, NY.
The garnet, generally deep red in color, is New York's official gemstone. The largest garnet mine in the world, the Barton Mine, is located in the Adirondack Mountains. New York ranks 1st in garnet production in the US and 4th in the world.
New York is the only state in the US to continuously produce wollastonite, a key ingredient in the production of ceramics and other industrial products.
Related Videos