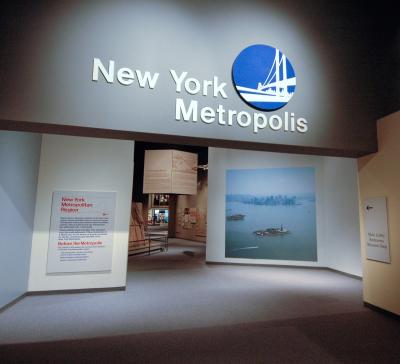 The history of New York City and its environs is traced as the natural harbor transforms into a bustling port, open spaces become canyons of skyscrapers and wilderness converts to one of the most exciting cities in the world. As the tempo of growth increased, so did the complexity and diversity of the New York Metropolis.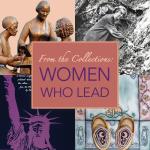 Now Open in New York Metropolis Hall
This new exhibit feature presents objects and artworks from our collections that highlight the contributions of women and proudly presents our newest acquisition, the Women's Rights Pioneers Monument 1/3-scale model by Meredith Bergmann.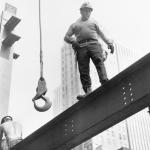 This riveting photographic series by David Grant Noble features Mohawk steelworkers on the job in 1970.
New York City: Here is New York
Explore architecture, transportation, culture and even bedrock geology through art, photographs and more! 
Skyscraper City
Highlights New York City's rapid growth and changing landscape, the development of new building forms and the impact of new technologies on New Yorkers.
Open Spaces
Examine the region's open spaces including Central Park in Manhattan, Coney Island and the Lower New York Bay, and even a salt marsh wildlife refuge on Long Island!
City of Neighborhoods
Travel back in time through notable sites of New York's past, including  Harlem in the 1920s, the Tuck High Chinatown shop, a 1930s West side Barber shop, Ellis Island, and even Sesame Street!
The Port
Engaging stories detail how New York's natural harbor setting turned into an economic capital bustling with industry.
Fun Facts: Did you know?! 
Coney Island was the most visited amusement park in the world until Disneyland opened in 1955.
When the A-Train first opened, it only cost 5 cents to ride it!
The Empire State Building holds the record for consecutive years as the tallest skyscraper (to structural height), for 42 years until it was surpassed by the North Tower of the World Trade Center in 1972.
The glow from he Great Fire of 1835, which destroyed all of the South Street Seaport, could be seen in Philadelphia, over 110 miles away.